Birds Names in Telugu and English పక్షుల పేర్లు: Birds are beautiful creatures admired for their beauty in our universe. They are warm-blooded vertebrate animals made with feathers that help them to fly. In an ecosystem, birds play a crucial role as seed dispersers, pest controllers, and pollinators. In the Telugu language spoken states of  Andhra Pradesh, and Telangana the bird names are to be known in their mother tongue. We undergo many benefits from the birds that survive in our environment.
Uses of Birds
Many of the bird species control the populations of rodents and other pests by hunting and feeding. The natural type of pest control will be benefited the gardeners and farmers. Birds play a main role in transferring pollen grain which leads to pollination and are also responsible for seed dispersal (Spreading seeds of fruits at different places). Bird watching is considered a famous recreational activity that attracts worldwide people.
Birds get migrate from one place to the other. They are sensitive enough to bare climatic conditions. Before the odd seasons, they choose a suitable place and travel to another place for a few days. The migration patterns and behavior of birds are studied in the subject of Biology. There is no harm made from birds other than the benefits.
Birds Names in Telugu and English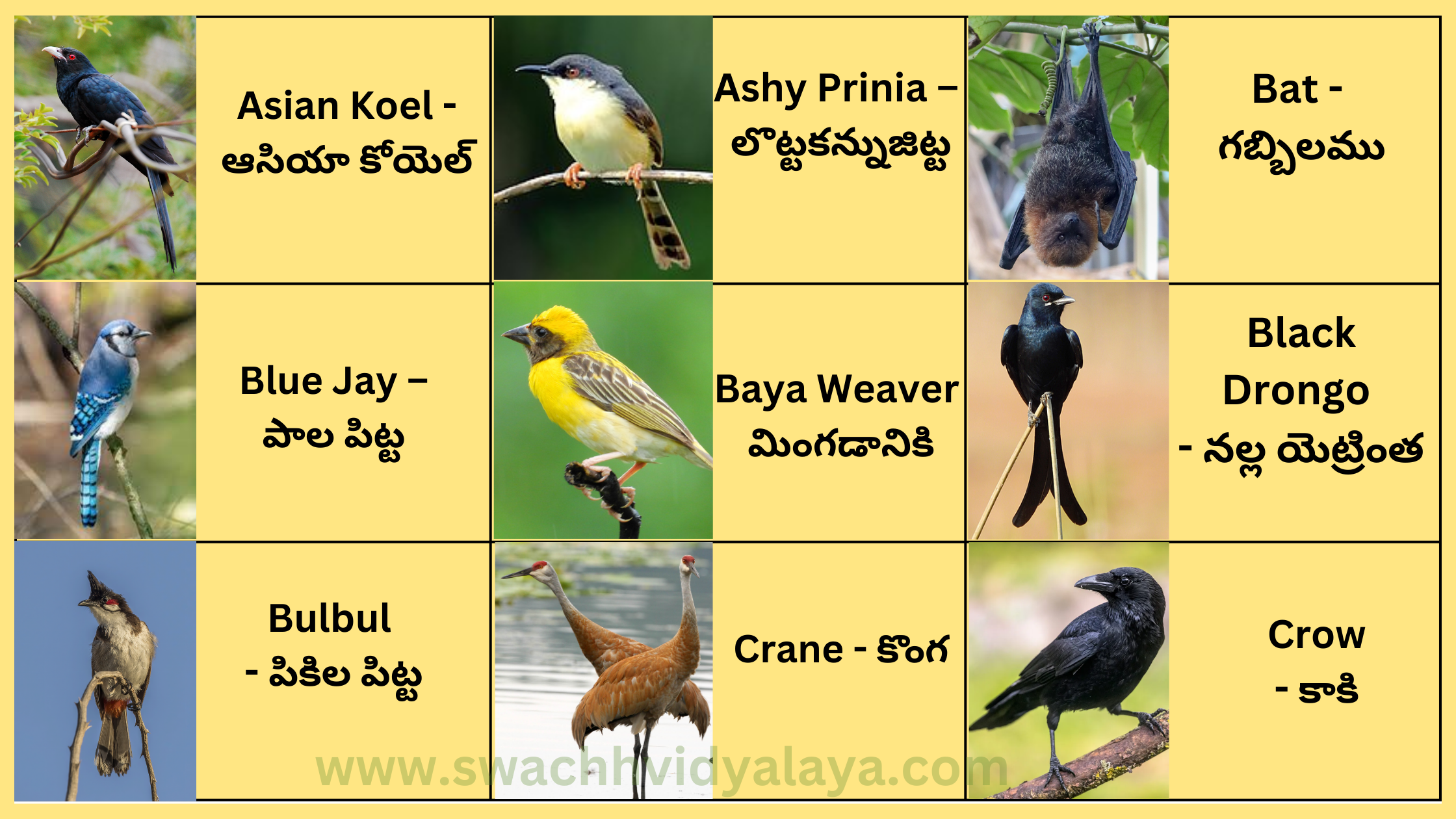 The birds of different species are listed below with their Telugu names along with the pronunciation of the Telugu language in the English language.
Asian Koel – ఆసియా కోయెల్ (Asia Koel)
Ashy Prinia – లొట్టకన్నుజిట్ట (Lottakannu Jitta)
Bat – గబ్బిలము (Gabbilamu)
Blue Jay – పాల పిట్ట (Pala Pitta)
Baya Weaver – మింగడానికి (Mingadaniki)
Bittern – తుంపొడి పక్షి (Tumpodi pakshi)
Black Drongo – నల్ల యెట్రింత (Nalla Yatrinta)
Black-Headed IBIS – బ్లాక్-హెడెడ్ (Black Headed)
Bulbul – పికిల పిట్ట
Crane – కొంగ (Konga)
Crow – కాకి (Kaki)
Cock – కొడి పుంజు (Kodi Punju)
Cuckoo – కోకిల (Kokila)
Chukar Partridge – చుకర్ పార్త్రిడ్జ్ (Chukar Partridge)
Common Wood Shrike – వడంబాలజిట్ట (Vadambala Jitta)
Crested Bunting – బంటింగ్ (Bamting)
Chicken, Pullet – కోడి పిల్ల (Kodi Pilla)
Common Babbler – చిన్నజిట్ట (Chinna jitta)
Cygnet – హంస పిల్ల (Hamsa Pilla)
Dove – పావురము (Pavuramu)
Duck – బాతు (Batu)
Drake – మగ బాతు (Maga batu)
Eagle – డేగ (Dega)
Eurasian Hobby –
Flamingo – రాజహంస (Raja Hamsa)
Falcon – ఫాల్కన్ (Falcon)
Forest Wagtail – ఉయ్యాల జిట్ట (Uyyala Jitta)
Great Egret – గొప్ప ఎగ్రెట్ (Goppa Egret)
Grey Partridge – గ్రే పార్ట్రిడ్జ్ (Grey Partridge)
Goose – బాతువంటిది (Batuvantidi)
Green Bee Eater – పచ్చ రెక్క (Patch Rekka)
Hen – ఆడకోడి (Ada Kodi)
Hoopoe – కూకుడు గువ్వ (Kukudu Guvva)
Hawk – Hawk (గ్రద్ద)
Heron – కొంగ (Konga)
Indian Bush Lark – ఇండియన్ బుష్ లార్క్ పక్షి (Indian Bush Lark Pakshi)
Indian Paradise Flycatcher – తోకపిగిలి పిట్ట (TOka Pigili Pitta)
Indian Robin – భారతీయ రాబిన్ (Bharatiya Robin)
Jungle Babbler – పెద్ద జిట్ట (Pedda Jitta)
Jungle Prinia – కొండలొట్ట కన్నుజిట్ట (Kondalotta Kannu Jitta)
Kite – గ్రద్ద (Gradda)
Kingfisher – లకుముకి పిట్ట (Lakumuki Pitta)
Lark – పాడెడు పిట్ట , భరద్వాజ పక్షి (Padedu Pitta, Bharadwaja Pakshi)
Large Grey Babbler – వెర్రిజిట్ట / గన్వజిట్ట (Verrijitta/ Ganvajitta)
Lesser White Throat – చిన్ననల్లకంప జిట్ట (Chinna Nalla Kampa Jitta)
Mynah – మైనా (Mynah)
Magpie – వస పిట్ట, కొండకటేడు (Vasa Pitta, Kondakatedu)
Nightingale – నైటింగేల్ (Nightingale)
Pegion – పావురం (Pavuram)
Parrot – చిలుక (Chiluka)
Peacock – నెమలి (Nemali)
Peahen – పీహెన్ (Peahen)
Partridge – చకోర పక్షులు (Chakora Pakshulu)
Pheasant – నెమలి లాంటి పక్షి (Nemali lanti Pakshi)
Pewit – పెవిట్ (Pewit)
Purple rumped sunbird – ముదగ తేనె పిట్ట (Mudaga Tene Pitta)
Pied crested cuckoo – చాతక పక్షి (Chataka Pakshi)
Puff Throated Babbler – అడవిలిక్కు జిట్ట (Adavilikku Jitta)
Paddyfield Warbler – ఎర్రకంపజిట్ట (Errakampa Jitta)
Plain Prinia (Indian Wren Warbler) – లొట్టకన్నుజిట్ట (Lottakannu Jitta)
Rook – రూక్ (Rook)
Raven – మాల కాకి (Mala Kaki)
Swan – హంస (Hamsa)
Sparrow – పిచుక (Pichuka)
Skylark – స్కేలార్క్ (Skylark)
Snipe – ఉల్లంగి పిట్ట (Ullangi)
Stork – కొంగ (Konga)
Swallow – వాన కోయల (Vaana Koyala)
Testle Dove – ఒక జాతి పావురం (Oka Jaati Pavuram)
Tawny Bellied Babbler – పంది జిట్ట (Pandi Jitta)
Tree Pipit – చీకుజిట్ట (Chiku Jitta)
Vulture – రాబందు (Raabandu)
Owl – గుడ్లగూబ (Gudla Guba)
Ostrich – నిప్పు కోడి (Nippu Kodi)
Quail – పిట్ట (Pitta)
Weavy bird– గిజిగాడు (Gijigadu)
Woodpecker – చెకుముకి పిట్ట (Chaekumukhi Pitta)
Wagtail – తోక నాడించే పిచ్చుక (Toka nadinche Picchuka)
Yellow Eyed Babbler – ఎర్రకాలి జిట్ట (Yerrakali Jitta)
Yellow Billed Babbler –   చిందజిట్ట (Chinda Jitta)
All the names related to the birds of certain species are brought to the users by the page of our website www.swachhvidyalaya.com. The unknown names of the birds can be checked and referred to by the Telugu spoken people. The bird names are learned by the students who are new to the school and then by the other persons according to the situation. To get other data related to education can regularly visit our website and can get subscribed to receive daily updates.