Animals Names in Telugu and English (తెలుగు జంతువుల పేరు): Animals play an important role in our life. They act as sources of food. Some of them are used for transportation purposes. Important medicines are produced from animal oils. There is a need for the people of their states to know all the related words that come into our daily life in the mother language. Telugu is spoken widely in the states of Andhra Pradesh and Telangana. The people of the state should be aware of the Telugu language animal names / Animals Names in Telugu.
Animal Classification
Animals are categorized into different types based on their food habits. They are classified as Pet/ Domestic animals, carnivores, Herbivores, and Omnivores. Pet or domestic animals are some of the breeds that are grown along with humans. Carnivores are animals that hunt and consume meat as their primary food.
Carnivores Animals list : Lions, tigers, wolves, Jaguars, Cheetahs, Crocodiles, etc are a few examples of Carnivores.
The animals which consume plants and animals are called Omnivores. Examples of Omnivores are Pigs, Foxes, Crows, Bears, Racoons, Opossums, Foxes, etc. Other types of animals are Herbivores. The animals that get their feed only through the plant material are known as Herbivores.
Rabbits, Cows, Deer, Elephants, Giraffe, Gorillas, Tortoise, etc are the animal examples for the Herbivores.
Animal Names list in Telugu and English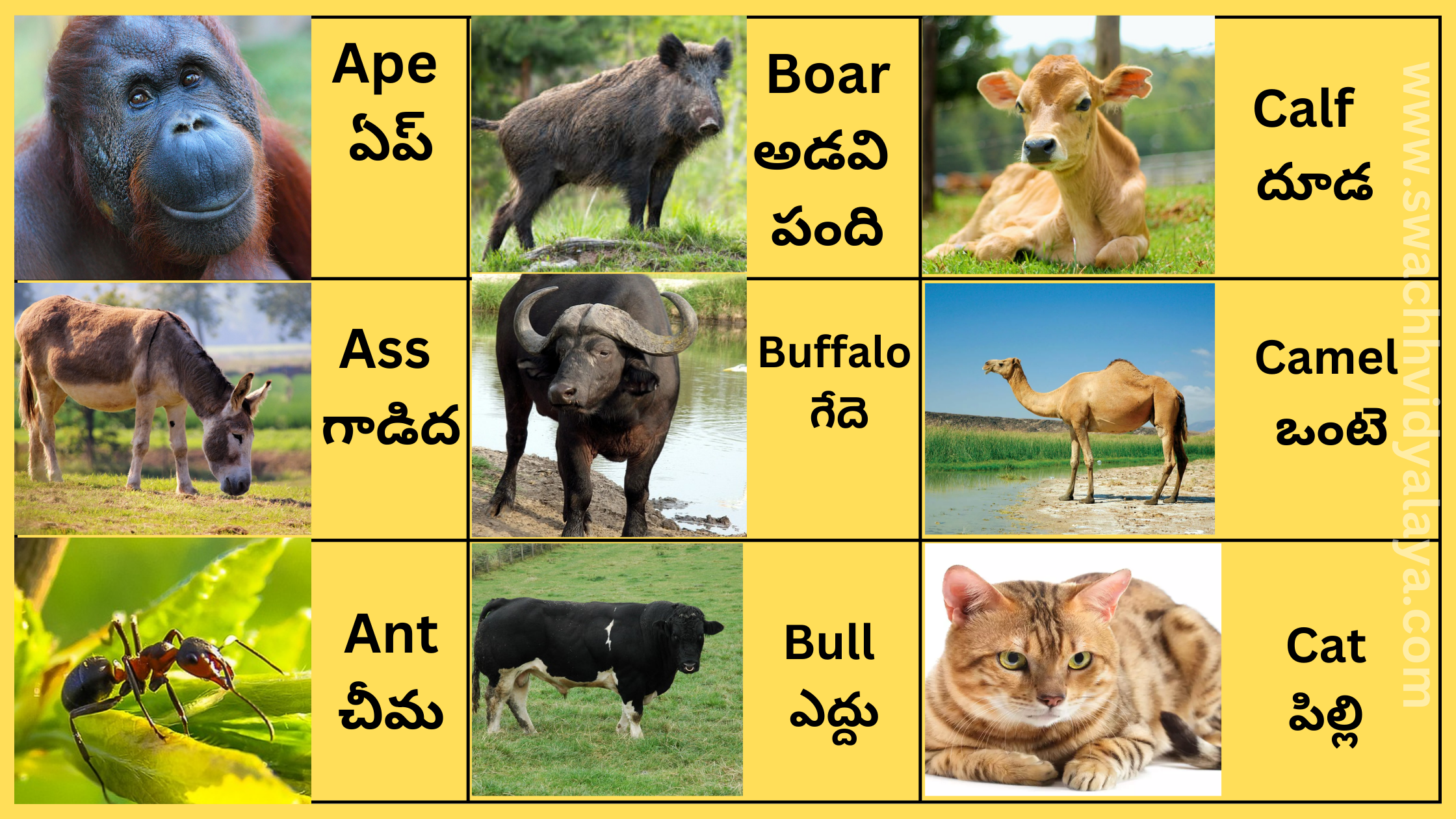 The list of various types of animals is specified below. The Telugu name of the related animal and its pronunciation is mentioned below. More than 100 animal names are specified here.
Ape – ఏప్ (Ape)
Ass – గాడిద (Gadida)
Alligator – ఎలిగేటర్ (Alligator)
Ant – చీమ (Chima)
Arctic wolf – ఆర్కిటిక్ తోడేలు (Arctic Todelu)
Armadillo – కవచ కేసి (Kavacha Kesi)
Baboon – బబూన్ (Babun)
Badger – బాడ్జర్ (Badger)
Bear – బేర్ (Bear)
Boar – అడవి పంది (Adavi pandi)
Beaver – బీవర్ (Beaver)
Buffalo – గేదె (Gaede)
Bull – ఎద్దు (Eddu)
Calf – దూడ (Duda)
Camel – ఒంటె (Onte)
Cat – పిల్లి (Pilli)
Chimpanzee – చింపాంజీ (Cimpanji)
Cow – ఆవు (Avu)
Centipede – సెంటీపీడ్ (Centipede)
Crocodile – మొసలి (Mosali)
Cricket – జిమ్మిక్కి (Jimikkii)
Crab – పీత (Pita)
Cicada – వంటిక (Vantika)
Deer – డీర్ (Deer)
Dog – కుక్క (Kukka)
Donkey – గాడిద (Gadida)
Dragonfly – పటంగ (Patanga)
Elephant – ఏనుగు (Yenugu)
Ewe – ఆడ గొర్రెలు (Ada Gorrelu)
Fawn – జింక దూడ (Jinka Duda)
Fish – చేప (Chepa)
Fossa – గుంట (Gunta)
Fox – నక్క (Nakka)
Frog – కప్ప (Kappa)
Giraffe – జిరాఫీ (Giraphi)
Goat – మేక (Meka)
Gorilla – మానవ కోతి (Manava koti)
Grasshopper – మిడత (Midata)
Grizzly – గ్రిజ్లీ (Grijli)
Hare – కుందేలు (Kundelu)
Hamster – కుందేలు (Kundelu)
Hedgehog – ముళ్ల ఉడుత (Mulla Uduta)
Hind – రైన్డీర్ (Raindeer)
Hippopotamus – నీటి ఏనుగ (Neeti Yenugu)
Hen – కోడి (Kodi)
Horn – కొమ్ము (Kommu)
Horse – గుర్రం (Gurram)
Hound – వేట కుక్క (Veta kukka)
Hyena – గాడిద పులి (Gadida Puli)
Iguana – ఉడుము (Udumu)
Jackal – నక్క (Nakka)
Jaguar – చిరుత (Chiruta)
Kangaroo – ఒక సాదు జంతువు (Oka Sadu Jantuvu)
Kitten – పిల్లి కూన (Pilli Kuna)
Lamb – గొఱ్ఱె పిల్ల (Gorre Pilla)
Langur – లంగూర్ (Languur)
Leopard – చిరతపులి (Chirata Puli)
Lion – సింహం (Simham)
Lizard – బల్లి (Balli)
Ladybug – అవుమగ (Avumaga)
Lynx – పెద్ద అడవి పిల్లి (Pedda Adavi Pilli)
Laama – లామా (Laama)
Mare – అడుగుర్రము (Adu Gurramu)
Mongoose – కిరి (Kiri)
Monkey – కోతి (Koti)
Mosquito – దోమ (Doma)
Mouse – ఎలుక (Yeluka)
Mantis – కాకిముట్టు (Kakimuttu)
Mule – గాడిద (Gadida)
Otter – జంగు పిల్లి (Jangu Pilli)
Ox – గొడ్డు (Goddu)
Oryx – ఒరిక్స్ (Oryx)
Panther – చిరుత (Chiruta)
Pig – పంది (Pandi)
Pony – పోనీ (Poni)
Porcupine – ముళ్ళ పంది (Mulla Pandi)
Possum – సైగా (Saiga)
Puma/ Cougar – ప్యూమా / కౌగర్ (Puma/ Cougar)
Puppy – కుక్క పిల్ల (Kukka Pilla)
Pangolin – పాంగోలిన్ (Pangolin)
Penguin – పెంగ్విన్ (Penguin)
Rabbit – కుందేలు (Kundelu)
Rat – ఎలుక (Yeluka)
Rhinoceros – ఖడ్గ మృగం (Khadga Mrugam)
Sheep – గొర్రె (Gorre)
Snake – పాము (Paamu)
Snail – నత్త (Natta)
Squirrel – ఉడుత (Uduta)
Sifaka – నిఫా (Nifha)
Shark – పిల్లి మిన (Pilli Mina)
Seahorse – కొంగాలు చేప (Kongalu Chepa)
Stag – మగ జింక (Maga Jinka)
Spider – సాలీడు (Salidu)
Starling – సంగి (Sangi)
Seagull – సీమీన పక్షి (Seemeena Pakshi)
Seal – సైగా (Saiga)
Tiger – పులి (Puli)
Tortoise – తాబేలు (Tabelu)
Turtle – తాబేలు (Tabelu)
Tapir – టాపిర్ (Tapir)
Weasel – నకుల విశేషము (Nakula Viseshamu)
Wolf – తోడేలు (Todelu)
Whale – పోటు (Potu)
Walrus – నీటి గుర్రము (Neeti Gurramu)
Worm – ఎముక (Emuka)
Wild Cat – అడవి పిల్లి (Adavi Pilli)
Weasel – ఉప్పు పులి (Uppu Puli)
Zebra – చారల గుర్రము (Charala Gurramu)
Different type of animals list is provided in a user-friendly way. The search made by the user will be answered every time with valuable information provided by our website
www.swachhvidyalaya.com. Regular users can get subscribed to our website for receiving regular updates and to grab useful data.