Telangana SCERT 10th Class Textbooks Download at scert.telangana.gov.in: Telangana government provides SCERT Telangana textbooks for class 10 students through the website of the Telangana State Council of educational research and training. Subjects Telugu, Sanskrit, Urdu, Hindi, Maths, Science, and Social in 7 mediums of study are available here. Any student can get the books downloaded from the separate pdf links provided for each subject in various mediums.
Subject Wise SCERT Telangana Textbooks for class 10 English / Telugu Medium:
SCERT Telangana 10th Class English Textbook: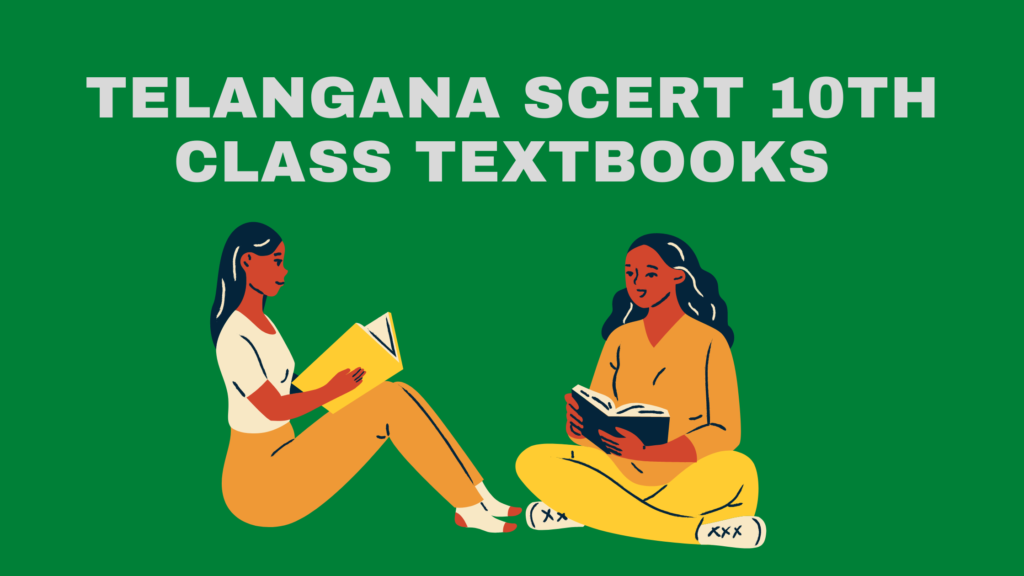 Each lesson of English subject textbook named "Our World through English" is included with three readings A, B, and C followed by Glossary, Comprehension, Vocabulary, Grammar, writing, study skills, Listening, Oral Activity, Project and Self Assessment that helps the students to know, till what extent they had learned the subject.
SCERT Telangana 10th Class Mathematics Textbook:
The Mathematics textbook is prepared in an organized way with examples from real-life applications. The introduction of the topic is explained followed by examples, small sample exercises "Do This" and "Try This". Then with the main exercises for practice. At the end of each chapter recalling points, projects, and tuff problems are given for practice.
Chapters of 10th Mathematics Textbook:
Real Numbers
Sets
Polynomials
Pair of Linear equations in two variables
Quadratic Equations
Progressions
Coordinate Geometry
Similar Triangles
Tangents and Secants to a Circle
Menstruation
Trigonometry
Application of Trigonometry
Probability
Statistics
SCERT Telangana 10th Class Science Textbook:
The Science Textbook is categorized into two parts. Physical Science and Biology are part of the book. Physical science is designed with 12 chapters and Biology with 10 chapters. The science book is introduced with an activity-based method. This helps the student to gain practical knowledge other than mugging up the subject. The Keywords, what we have learned, Improve your learning, and multiple-choice questions provided at end of each lesson revise and practice the content of the particular lesson.
Chapters of 10th Physical Science Textbook:
Reflection of Light at curved surfaces
Chemical equations
Acids, Bases, and Salts
Refraction of Light at Curved Surfaces
Human Eye and Colorful World
Structure of Atom
Classification of Elements- The Periodic Table
Chemical Bonding
Electric Current
Electromagnetism
Principles of Metallurgy
Carbon and its compounds
Chapters of 10th Biology Textbook:
Nutrition
Respiration
Transportation
Excretion
Coordination
Reproduction
Coordination in life processes
Heredity and Evolution
Our Environment
Natural Resources
SCERT Telangana 10th Class Social Studies Textbook:
The parts civics, Geography, Economics, and History of the subject are divided into two parts. Part I and Part II. Each topic is developed for the understanding of students with proper explanations and pictures. Keywords, Improve your learning and project topics provided at the end, helps the students to think and practice more on the lesson.
Chapters of 10th Social Textbook:
Part – I Resources Development and Equity
India: Relief Features
Ideas of Development
Production and Employment
Climate of India
Indian Rivers and Water Resources
The Population
Settlements – Migrations
Rampur: A Village Economy
Globalization
Food Security
Sustainable Development with Equity
Part – II Contemporary World and India
The world between the World Wars
National Liberation Movements in the Colonies
National Movement in India–Partition & Independence: 1939-1947
The Making of Independent India's Constitution
Election Process in India
Independent India (The First 30 years – 1947-77)
Emerging Political Trends 1977 to 2000
Post-War World and India
Social Movements in Our Times
The Movement for the Formation of Telangana State
10th Class Textbooks 2022
10th Class Language Textbooks 2021
10th Class Maths Textbooks 2021
10th Class Physics Textbooks 2021
10th Class Biology Textbooks 2021
10th Class Social Textbook 2021
10th Class Environmental Education Textbooks 2021
Users can utilize the links given above and get prepared for their exams.