SCERT Telangana Textbooks for 10th Class, 9th Class, 8th Class, 7th Class, 6th Class, 5th Class, 4th Class, 3rd Class, 2nd Class, 1st Class and Medium Wise available at Download from eText Books web scert.telangana.gov.in portal:  Telangana state government has developed the website of the State Council of Educational Research and Training (SCERT) to carry out the educational activities in the state by evaluating and researching studies. Acquiring knowledge is an endless process. Any person can acquire knowledge depending on his/her interest as it is an endless process.
In the olden days, book reading is made extensively in libraries. But in present days people are showing interest to read a book or a notification from their mobile phone. Due to modern technology people are thinking of the easy ways that have to be done within a limited period. For this reason, e-books have the importance of getting downloaded.  
See Also:  SSC Memo Download Telangana – SSC Short Memo
The students of the Telangana government can be able to download the concerned state government Telangana textbooks from SCERT Telangana's 1st to 10th class. The books are available to download in pdf format for free of cost. Books from classes 1st to 10th are displayed as e-books in Telugu, English, Urdu, Hindi, Kannada, Marathi, and Tamil languages. The individuals who wish to download can choose an option of the language they wish to get.   
SCERT Telangana 1st class to 10th class Text Books Medium Wise 
The SCERT Telangana Textbooks are designed based on a particular curriculum. All class books are available for the subjects English, Maths, Physical Science, Biological Science, Social studies and opted choices of first language and second language. An individual who wishes to download can follow the simple process and can make use of these books. SCERT Telangana 1st class to 10th class textbooks can be used to gain knowledge and are used to prepare for several competitive examinations conducted by the Telangana state government. 
Free Download of SCERT Telangana Textbooks Medium and Class Wise: 
TS SCERT website is functioning to undertake, coordinate and promote research on education in the state of Telangana. As a part of the website, TS SCERT books are kept available for the benefit of the users without any charges. With the help of these free e-books, an individual can prepare for several competitive exams like Group I, Group II, Group IV, DSc, etc. Apart from these, books are used to gain and improve the knowledge of an individual.
The SCERT Telangana textbooks are useful to both the teachers as well as the students. As these books of different subjects are available free of cost can be utilized properly according to their necessity. In this current situation of COVID-19, these books are very useful to students for pursuing their studies sitting at home. The textbooks from 6th to 10th classes are printed with QR codes, which can be scanned. When a person scans the code, they will be able to go through the video and audio lessons either on their mobiles or laptops. This enables them to make their learning better.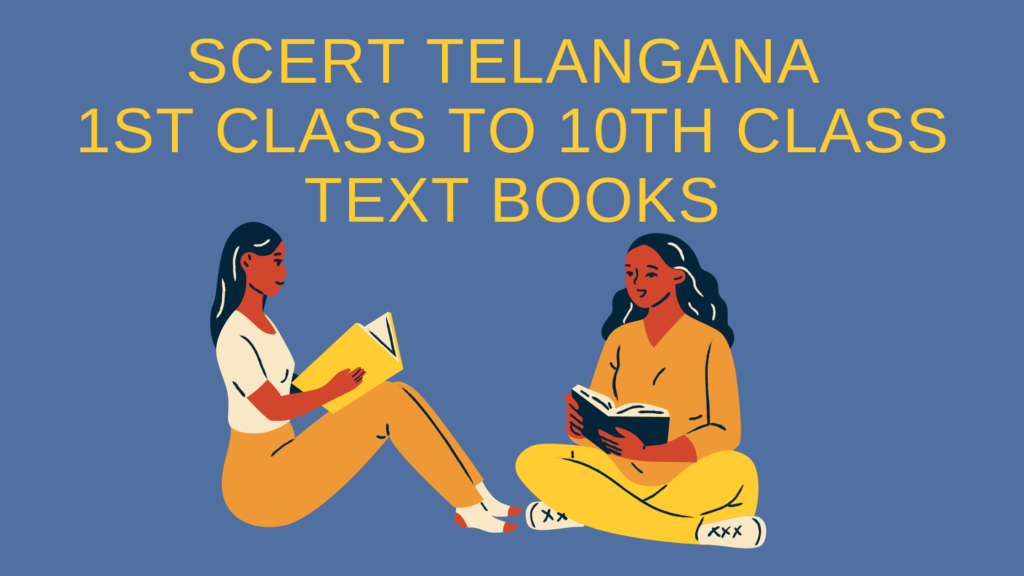 TS SCERT Books PDF Download:
All classes textbooks from the State Council of Educational Research and Training can be downloaded in pdf format. The users intended to download the books have to follow the below steps for easy download.
Click on the e-Textbooks option present on the left side of the page.
Or
First, visit the website www. scert.telangana.gov.in
Then click on publication.
There a drop-down box will be opened.
Go to our books.
Then select e-textbooks.
A page will be opened where you will find all the links for downloading.
Choose the desired subject and proceed to download it. 
SCERT Telangana 1st to 10th class Telugu, English, Hindi Text Books
         E-Text Books ( I to X ) 2022 Edition Download Below Table 
         10th Class Telugu, English, Urdu, Hindi Textbooks 
          1st Class Textbooks 
Our website www.swachhvidyalaya.com helps the users to gain the appropriate knowledge about a particular topic. By following our website an individual will be able to save their time by getting the exact information within no time. Users can subscribe for getting the alerts by clicking the bell icon present at the right bottom of the page. The users can download the TS SCERT e-books and can be benefited from them according to their use.