APESR | How to Update AP E-SR Online apesr.apcfss.in: AP E-SR is nothing but Andhra Pradesh Teachers Employees Online Service Register. AP ESR's official website has been launched by the Andhra Pradesh state Finance Department in order to get all the government employees' details under one roof. In the E-SR Employees Service Register all the employees of the AP state government need to update their details such as Personal details, Educational Certificates, Salary, Pay Drawn details, Service Details, Leave credit details, punishments, and incentives in Online mode. The updated AP E-SR online will be used in Employees CFMS and HRMS web portals. 
We at Swacch Vidyalaya help you to update your details on AP ESR's official website. The only thing is to follow the step-by-step procedure given in this article to update AP E-SR online and AP Teachers Employees eSR details Entry login process. 
Reason To Update AP E-Service Book (E-SR)
The Finance Department of Andhra Pradesh State is very keen on maintaining E-SR instead of the normal service register previously. For this process, the AP government has issued GO Ms. No:99 Dated 27/06/2018 to maintain all the details of government employees under one website. So a new web portal has been launched by the officials. We have listed the process of AP Teachers Employees eSR details entry login, how to update AP E-SR online, instructions, and documents required for the update process in this article. 
How To Update AP E-SR Online?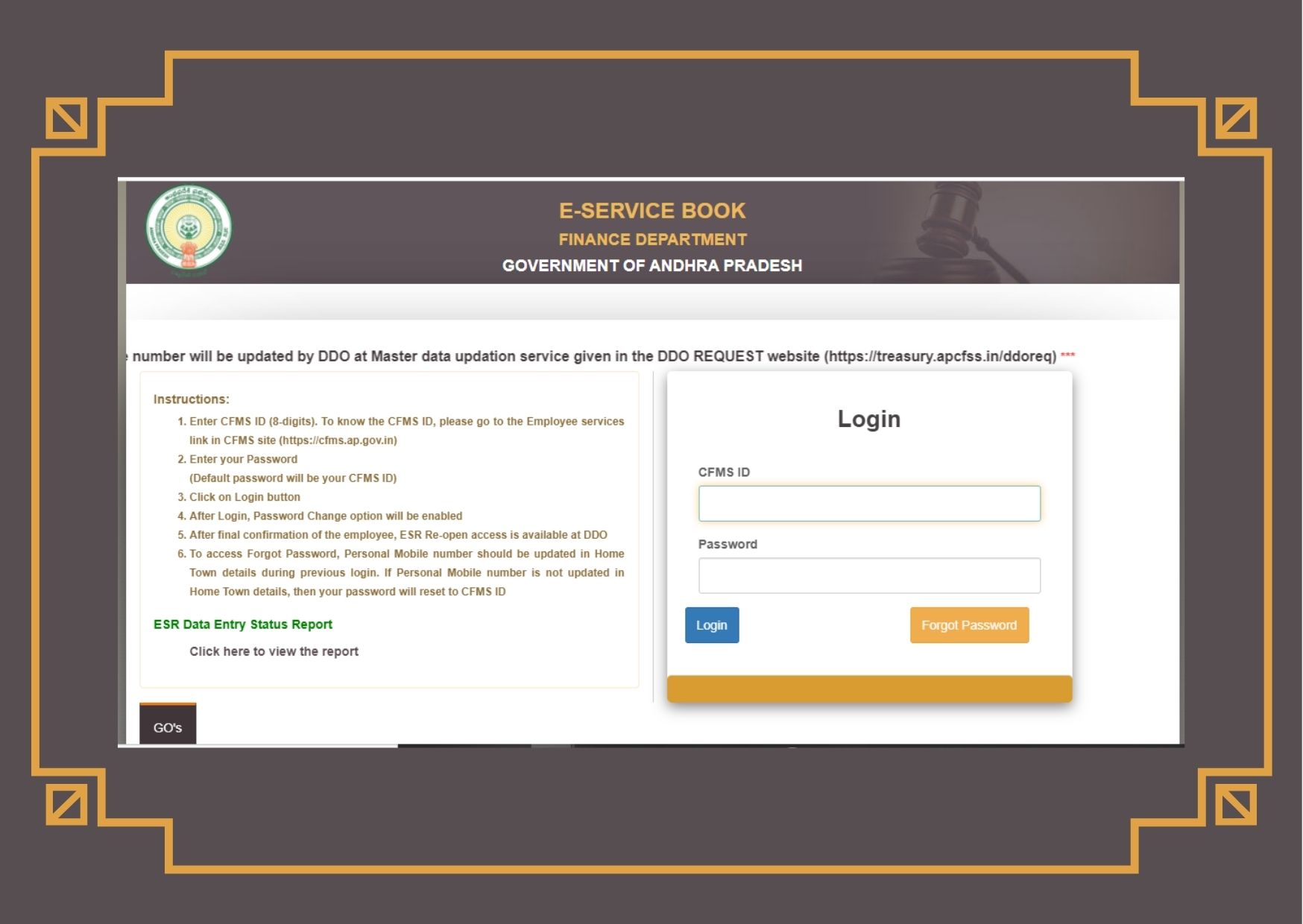 Here, we have listed few steps to log in to the employee personal details update process in AP E-SR. 
Step 1: Visit the official website of AP ESR 
Step 2: Enter CFMS ID i.e, in 8 digits. If you do not have a CFMS ID, please go to the official website of CFMS i.e, cfms.ap.gov.in
Step 3: Go to the Employee services link on the CFMS website. 
Step 4: Enter your old HRMS employee code of 7 digits to know your CFMS ID. 
Step 5: After knowing your CFMS ID, enter your password. 
Step 6: An OTP will be sent to your registered mobile number.
Step 7: Enter OTP and click on the login button.
Step 8: After login, an option of Password change will be displayed. 
Step 9: You can change your password accordingly. 
Step 10: After final confirmation of employee, AP ESR re-open access is available at DDO
Step 11: To access the forgot password, the personal mobile number needs to be updated in the hometown during the previous login. If the number is not updated, then your password will be reset to CFMS ID. 
Instructions After Login Process
You need to follow the below steps in three different levels i.e, at the employee level, DDO level, and finally at Head Office level. 
Procedure At Employee Level:
All the government employees need to submit their details under the e-service book-entry menu from part 1 to part 12.

After submitting the details from Part 1 to 12, they are available to view and confirm the sub-menu. The employees need to confirm the details through Biometric.

The employee details which were confirmed will be made available in the next level i.e, to their respective DDO's login for later process. 
Details Need to be  Updated at the Employee Level:
Following are the details that need to be updated at the employee level under AP E-SR. There are 12 sections under this. 
PART 1. Personal Details

PART 2. Certificate Details

PART 3. Service Details

PART 4. Pay Drawn Details

PART 5. Leave Details

PART 6. Leave Travel Concession Details

PART 7. Interest Bearing Advances Details

PART 8. Group Insurance Scheme Details

PART 9. Service Verification Details

PART 10. Departmental Tests and Training Details

PART 11. Incentives

PART 12: Pension Proposals
Procedure At DDO Level:
The DDO has to submit the employee service details and needs to follow the steps as mentioned.

Concerned DDO will get the employee's list of services for confirmation in the respective person's login. 

The DDO has to go through the details of each employee with reference to the ESR i.e, employee service register, and confirm it by the biometric authentication process. 

Then all the details under the DDO will be made available in Head office login for further process. 
Procedure at Head Office Level:
The Head office needs to access view and confirm submenus and will check each employee service details after confirmation by the DDO. Later, the head office also confirms the same. 
The above stated is the three-level procedure during AP E-SR online update. 
Sections in Employee Personal Details Updation
Personal Details

Family Details

Qualification Details

Address Details

Home town details

Account Details
Documents To Be Scanned Under AP E-SR Online Update Process
The below-listed documents need to be scanned before going to the update process. 
SSC certificate or scanned SR extract

Latest Passport size photograph

Photo at the time of joining in service

Local status certificate

Educational qualifications certificates if any

PAN card

Bank account first page

PF slip

APGLI Bond

Medical certificate in case of PH

Caste certificate
Click Here For AP Teachers Employees eSR Details Entry Login esr.ap.gov.in
Swachh Vidyalaya Strives to provide the latest information to the readers. Keep visiting Swachh Vidyalaya for more updated information regarding AP Teachers Employees E-SR entry login, ESR data entry report status, and many more services.