AP ZPGPF Legal Portal and zppf slips Its Details zpgpf.ap.gov.in: ZPGPF Web Portal is a Legal Government Portal for AP state government employees. The state has developed a site for its employees which are very useful for checking their ZPGPF Annual Slips. This page provides you all the information about ZPPF Annual Information, How to Download ZPPF Forms, etc. Let's get into that quickly…
ZPGPF Portal – Zilla Parishadh Government Provident Fund:
 GPF which means Government Provident Fund is a means to Government employees all over India. It is something that is generated in their account along with the salary every month. Then in course of time, GPF is disbursed during the time of retirement of an employee and the amount can be traced through their government departments.
Nowadays the developed states in our country started developing new websites for their employees. In the part of digitalization, all the states stepped a bit forward and developed a new website portal for their government employees of their own states. So say goodbye to visiting any Provident Fund Office and follow these steps that make your work easy by just following these steps.
AP ZPGPF Annual Slips / AP ZPGPF Slips:
Andhra Pradesh Zilla Parishadh GPF slips are now available in Andhra Pradesh ZP Government Provident Fund Official Website: www.zpgpf.ap.nic.in. Employees in AP who are working in various government departments can know or check their details and also download AP ZPGPF account Annual Statements from the official website using their login credentials.
The rest of the article will take you to Steps to Download the ZPGPF Annual Slips and Its Details.
How to Download ZPGPF Annual Slips:
Firstly any employee has to subscribe or signup through the Official ZPGPF Website: zpgpf.ap.gov.in / www.zpgpf.ap.nic.in or you can also go to the nearest Zilla Praja Parishad for login credentials.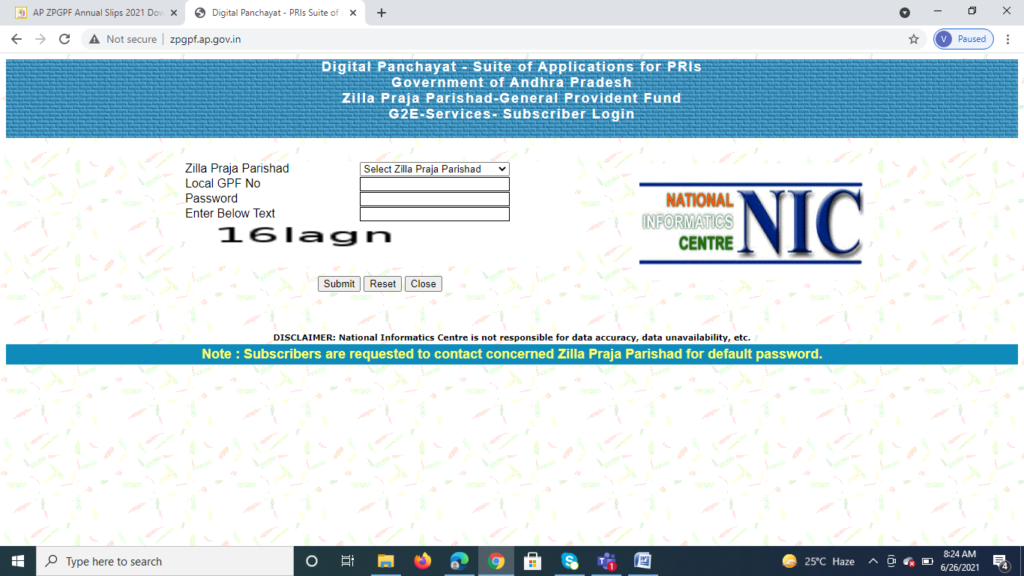 Then login to the website using your account number, default password (default password provided by the centre). At this stage, you can also reset the password to your own password.
Enter the text that is visible on your screen.
Click the submit button.
Then you can see District Wise GPF Details every year where you can click on the link you want to.
For example, if you are searching for AP ZPGPF Annual Slips 2021, click on the AP ZPGPF Annual Slips 2021 Download link and this will take you to the required information.
The following images will guide you with an example of how it appears once you open the page and then guide you where to click for details.
Open AP ZPGPF Website: www.zpgpf.ap.nic.in and this is how the page appears.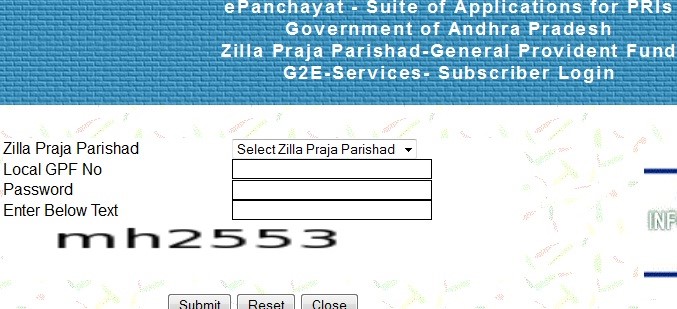 Select the district where are you are working from the drop-down menu in the first option: Zila Praja Parishad. For example, here I've selected Chittoor and you can select your required place.

In the second option Local GPF Number, enter your five-digit or the assigned digit local ZPGPF nu in the textbox as shown below.(The number is blurred for security purpose).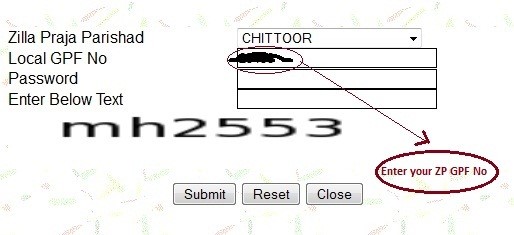 Enter password of your account. If you are using your login credentials for the first time, your login password is your 5 digit number with prefix 'emp'. For example: if your ZPGPF number is 56789, then your password would be emp56789. After you enter the password, enter CAPTCHA that is displayed below and then click on the submit button.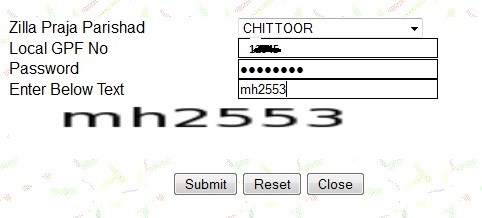 Once you are done clicking on the submit button, a new page like the one below will be shown. On this page you are supposed to follow Menu….>Ledger Cards…..>Ledger Card 2020-2021 for the current year or you can select the year that you wanted to.

The final page gives you all the information about the ZPGPF Slips schedule that are looking for.
The information provided above is based on our login credentials and if any of the information seems to be not working or if it seems to be mistaken, please do correct us so that we are always obliged and pleased to note our corrections and make sure we give correct information to our viewers.